Neil Hamburger Message Board:
First-time posters and one-time Guests are welcome! All ages and nationality are welcome. Scroll to the bottom of this page and click on the Magic Link that will transport you to the Message Board. There, you can Leave your comments or else just LURK in the back ground (not in a menacing way, please)

This NEW Message Board is moderated by Boni Jergen, who won't tolerate it if you use the board to advertise un related things, like what happened with our Guest Book, which we had to shut down on March 14, 2005, from all the spam-advertising that ruined it.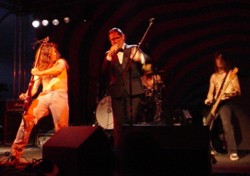 To fill space on this page, Here is a rare photo of Neil Hamburger guest-singing one song with the famous punk rock band The Hard-Ons at the Perth Showgrounds in Perth, Australia, some years back.

Neil Hamburger Message Board
http://bonijergen.proboards45.com/index.cgi

Again, if you missed it, here is that Link again:
http://bonijergen.proboards45.com/index.cgi
Moderated by Boni Jergen.